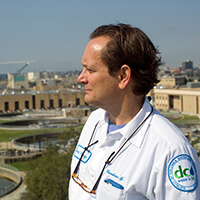 CBF President Will Baker sits down with DC Water General Manager and innovative environmentalist George Hawkins to discuss the ins and outs of distributing drinking water to and collecting wastewater from millions of capital-area residents and visitors. Find out about some of the biggest innovative green power and infrastructure projects you've probably never heard of.
Program Notes:
02:14   A look at Washington, D.C.'s water and sewage footprint.
11:09   Just how clean is the water coming out of the Blue Plains water treatment plant?
13:00   DC Water's advanced waste-to-energy water treatment plant is the largest of its kind in the world.
18:00   With a goal of becoming power self-sufficient, DC Water is taking on new solar and microgrid projects.
20:20   One of the cleanest biosolid soil amendments available.
21:40   Behind DC Water's $2.6 billion public works project to solve the challenges of D.C.'s combined sewer system and how an innovative funding program called Environmental Investment Bonds is enabling an exciting new green infrastructure project.
30:50   A look at DC Water's innovation-focused culture and what it means for employees and rate payers.
Learn more about Environmental Impact Bonds.
Photo credit DC Water