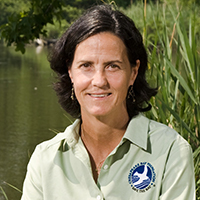 At the halfway mark in the Chesapeake Clean Water Blueprint, CBF President Will Baker and Dr. Beth McGee, CBF's Director of Science and Agriculture Policy, assess progress in pollution reduction across the region.
EPISODE NOTES
01:28  Overview of midpoint progress
02:35  The impact of sewage treatment plants
03:25  Trends for other sectors
03:55  Progress in Pennsylvania, Maryland, and Virginia
05:15  Funding for pollution reduction efforts
09:58  CBF's efforts helping farmers in Pennsylvania and the importance of planting trees.
11:15  Scientific basis for targeting geographic locations of where funding will have the greatest impact.
13:06  Air pollution's contribution to nitrogen pollution in the Bay and regulations being rolled back.
16:44  Maryland's Back River Sewage Treatment Plant upgrade project
18:15  What gives us hope; what worries us
 
From this episode:
Find out more about the Blueprint Midpoint Report
Tell your elected officials to make sure the Federal Farm Bill contains conservation funding. Find your representative's contact information here.
Keystone 10 Million Trees Partnership
The importance of trees to pollution reduction, our health, our economy, and our environment
CBF Report: Closing Pennsylvania's Pollution-Reduction Gap
Photo credit: Benjamin Tankersley