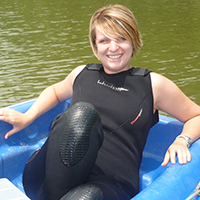 CBF President Will Baker and Maryland Fisheries Scientist Allison Colden discuss Virginia's appeal of the cap on the industrial fishing of the Bay's most important fish and what you can do to help protect it.
Program Notes
01:33 - A review of the issues and policies addressed by the Atlantic States Marine Fisheries Commission (ASMFC) in November.
02:22 - You probably have Atlantic menhaden somewhere in your home right now. Understanding the reduction fishery.
05:08 - Recap of the decisions made by the ASMFC in November.
11:16 - Virginia's challenge to change the November decision and increase the amount of menhaden that can be removed from Virginia waters.
13:19 - Why it's critical for Maryland to take a stand against repealling the cap on menhaden.
15:08 - What happens next--ASMFC reviews Virginia's appeal on February 8th.
For more about menhaden and how to contact members of the Atlantic States Marine Fisheries Commission (ASMFC) before the February 8, 2018 meeting, visit cbf.org/menhaden.
Listen to our podcast, "A Mixed Bag for Menhaden" for more about November's ASMFC Amendment 3 decision.