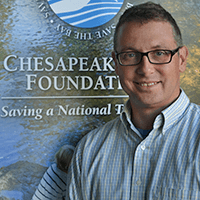 CBF President Will Baker and CBF Pennsylvania Outreach Manager Lane Whigham announce the launch of the Keystone 10 Million Trees Partnership, a group effort to improve water quality in Pennsylvania and the Bay.
EPISODE NOTES:
02:00   What 10 million trees can do for water and air quality in Pennsylvania.
04:12   Who is participating.
11:40   Making history in nine days in Pennsylvania.
13:00   The economics of planting 10 million trees by 2025.
Learn more at TenMillionTrees.org
Photo credit: CBF Staff